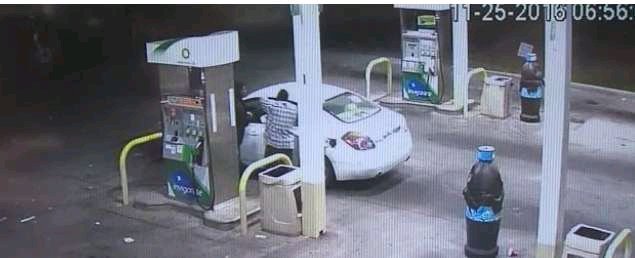 Mad ooo! Armed Robbers Attack Fuel Station, Sell Fuel For 3 Hours To Get Enough Cash.
We have heard of money heists, we have heard of car heists, we have even heard of gold heists, but we have never heard of Fuel heists or Petrol as some may call it.
The news about a group of arm robbers that unusually robbed fuel stations is currently trending.
READ: TRAGEDY!!! See the US Based Nigerian Doctor Who Shot His Wife Dead and Tried To Kill Himself
The incident happened in far away Zimbabwe in Africa. The robbers reportedly stormed a fuel station with their usual intent to rob them of their money and valuables. However, what they met was not what they bargained for when drawing the master plan of the robbery.
The fuel station reportedly had small cash than they anticipated. In other not to go back home with a deficit budget, they had to improvise by selling the fuel in the filling station to unsuspecting motorists who thought they were legit petrol attendance or staff of the fuel station.
According to reports, the operation lasted for about 3 hours before they left. The total amount of money carted away is yet to be officially known, but it is estimated to be around 15 thousand dollars in total.
READ: See How These Two Men Specializes In Stealing Spare Parts From Cars
To make things difficult for the police to get hold of their identity, it was also reported that they removed all the CCTV cameras around the fuel station before leaving. The staff of the petrol station was also said to have been tied and locked in a place while the operation went on unabated.
This kind of daring move, before now, could be only seen in Hollywood movies but it seems things are becoming more real than we thought.
READ: Jubilation As Police Has Arrested The Strongest Armed Robber in Port-Harcourt
What are your thoughts on this, do you think the world should anticipate more of this type of robbery and prepare towards it?
DO YOU HAVE ANY NEWS YOU WANT TO REPORT? CLICK HERE TO REGISTER AND SUBMIT YOUR NEWS FOR PUBLICATION ON TOKTOK9JA
WATCH MORE NEWS ON OUR YOUTUBE CHANNEL CLICK HERE TO SUBSCRIBE
Professional freelancer and webmaster.
From Toktok9ja Media
The views expressed in this article are the writer's opinion, they do not reflect the views of the Publisher of TOKTOK9JA MEDIA. Please report any fake news, misinformation, or defamatory statements to toktok9ja@gmail.com