HEAVY SCANDAL: Alaafin of Oyo's New Wife Chioma, Was Allegedly Married To An Igbo Man [SEE DETAILS]
HEAVY SCANDAL: Alaafin of Oyo's New Wife Chioma, Was Allegedly Married To An Igbo Man [SEE DETAILS].
It has been alleged that Chioma, the new wife of Alaafin of Oyo, Oba Lamidi Adeyemi was married to an Igbo man named JC.

Recall that the Yoruba monarch reportedly had twelve wives but over the weekend, he stepped out with his new wife identified as Chioma.
Kabiyesi who looked younger and smart not only walked in with his 13 Queens who was looking so beautiful in white lace matched with white headgear but also his newest wife, Olori Chioma Adeyemi.
READ: BOMBSHELL!!! Former S*x Worker With Two Vaginas Says She Uses One For Work, The Other For Her Boyfriend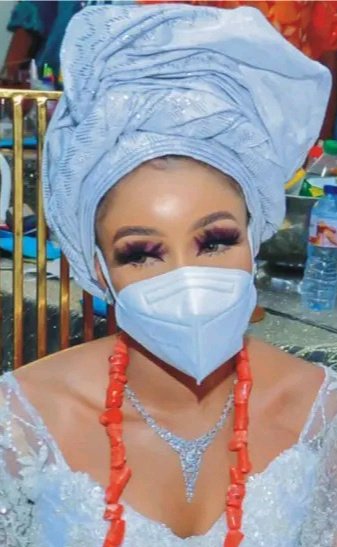 She stayed at the left-hand side of Kabiyesi as he walked in. Though many didn't know who she was as her face wasn't one of the regular young Oloris at the palace.
According to a report by City People, the respected monarch, Oba Lamidi Adeyemi got married to the new Queen last year.

Though she is yet to embark on a 9-month course, she will be the first young eastern Queen married to Oba Lamidi Adeyemi.

At the occasion were the Alaafin stepped out with his wives, king of Music, King Wasiu Ayinde Marshal started singing their praise and mentioned Olori Chioma Adeyemi which confirmed that she is really his new wife.
READ: 5 Years After The Death Of Nigerian Comic Actor Dede One Day, See The Mansion He Was Unable To Complete Before His Death

Reports making rounds now claim that Chioma got married to another man earlier before she was spotted with the Yoruba monarch.
Some photos shared online show when Chioma is engaged by the alleged previous husband and another where they were seen all loved up.

According to reports, it is uncertain whether the marriage was dissolved before proceeding to marry her new husband, Alaafin of Oyo.

See photos below:
The new photos have generated mixed reactions on social media.

See some comments from Instagram users below:

snuggleqween: Is the Alaafin using voodoo??

lulu_whyte: The girl wan cash out. Abeg make una free her

erin_7.7: Keep telling yourself that. But ask yourself how did a young innocent Igbo girl meet the Alaafin in the first place?
cianna_____: Some of these ladies have been seriously hurt in the past. Probably in Relationship or marriage, so the rather be with the old and be happy.

rebecca_goddy: Plot twist, Maybe she and her husband planned on cashing out so he allowed her to marry the man for his wealth
READ" SO ROMANTIC: See the Graduate Who Married An SS2 Student He Met During NYSC

Meanwhile, months ago, Ayaba Aishat Folashade Adeyemi, who is one of the wives to 81-year-old Alaafin of Oyo, had stated that her husband is more romantic than most young men.


The mother-of-three disclosed this in an interview with The Nation.

According to her, the Kabiyesi is so romantic, he shows affection more than most young men.
Her words, "Kabiyesi is very romantic. If you are not close to him, you won't know that he is loving and kind."

"At times when I'm in the kitchen, he would come and offer to assist."
The Kabiyesi's wife also explained how when she was still a part-time student at the University of Ado-Ekiti, her husband would dish food for her and instruct the driver to bring it to school so she could eat.
She added, "The difference in our age gap has not stopped him from showing affection."
"He shows affection more than some of these young men you see outside there."

"What a young man can do out there, Kabiyesi does better."

Explaining why she was attracted to him, she said, "He is wise and intelligent. Most times when he is not in the office or attending to visitors, he is in the library reading.
"He reads a lot and encourages us to read too. At times he would tell you to look for the meaning of a word; you will be surprised that he would tell you the meaning of that word as it is written in the dictionary or on Google.

"He is such a wonderful man. His depth of knowledge is unrivaled."

He is also a unique Yoruba monarch.

"He is popular and brilliant, and there is no place he cannot go as a Yoruba oba. Alaafin is the first among the Yoruba obas. The way he does his things is different."
The Alaafin's wife also spoke on how disagreements among the wives in the palace is handled.

According to her, there are bound to be disagreements since all the wives came from different backgrounds.

"But that has not been an issue. As soon as you are married into the palace, you are given rules and regulations."

"Any time there is a disagreement, it is settled. It does not go beyond that day.

"The Alaafin does not know about it, and because of that, he does not intervene.
"Even if he knew, the palace is so structured that the senior ayabas (wives) settle whatever disagreement the younger queens might have."

On how issues are settled between the wives, she said that the younger ayaba, irrespective of the nature of the disagreement, has to apologise to the senior one.

She said, "Then the senior one too will apologise and things will return to normal. That has been the rule here, and it is working.

"To say we don't disagree will be a big lie. But while we may disagree sometimes, there is this bond among the ayabas.

"For example, when you are delivered of a baby, the palace mothers (senior ayabas) take care of them.

"You only go to see them when you want to breastfeed them. And when you are done with breastfeeding, you retire to your apartment. "The senior ayabas are the ones taking care of the children. This has brought about unity in the palace."
DO YOU HAVE ANY NEWS YOU WANT TO REPORT? CLICK HERE TO REGISTER AND SUBMIT YOUR NEWS FOR PUBLICATION ON TOKTOK9JA
WATCH MORE NEWS ON OUR YOUTUBE CHANNEL CLICK HERE TO SUBSCRIBE
Professional freelancer and webmaster.
From Toktok9ja Media
The views expressed in this article are the writer's opinion, they do not reflect the views of the Publisher of TOKTOK9JA MEDIA. Please report any fake news, misinformation, or defamatory statements to toktok9ja@gmail.com