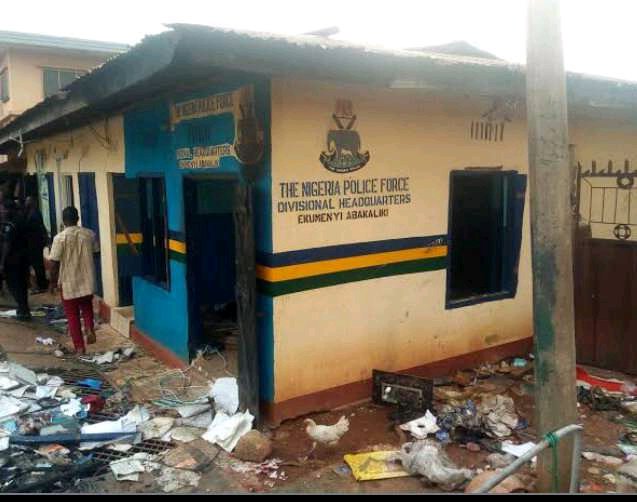 "My Local Govt Commander Made Me The ESN Spy Commander" – 17-Year-Old ESN Spy Confesses.
According to the English dictionary, a spy means a person who secretly watches and examines the actions of other individuals or organizations and gathers information on them (usually to gain an advantage).
A 17- year- old boy by the name Elom Daniel who hails from Ebonyi State in Ohaukwu local government has narrated how he became an Eastern Security Network spy through the influence of his cousin who is also a member.
READ: SHOCKING!!! 21-year-old LASU Student Stabs Lover to Death, Withdrew N300,000 from His Account
According to reports, he said that his cousin asked him to join the ESN and that when freedom comes for the people of Biafra, his 50th generation will enjoy it.
READ: True Live Story of How Nigerian Lady Who Went To Work As A Maid In Saudi Arabia, Faked Madness To Escape Death
He said he became one of them after being convinced by his cousin, and he was made the ESN spy by a local government commander by the name Francis Nkwede who is from Izzi Local Government Area of Ebonyi State.
After he was accused of murder by the security operatives, he claimed he hasn' t handled any rifle and that his own job as an ESN member is to spy and give information on places to be attacked and how to carry out the attacks.
READ: Lady Who Cooked Food With Menstrual Blood for Her Boyfriend Tells the Shocking Story
In his confession, he said that he was the one who gave the information which led to the killing of policemen and the destruction of the facilities which belong to the Independent National Electoral Commission (INEC) and other national assets in Ebonyi State.
He made mention of places he source his information from in Ebonyi State, and such places are Ishieke police checkpoint, the one at Amasiri Junction, the one at Onueke, and the one of CPS, in Abakalik.
READ: END OF HERDSMEN!!! As Another Powerful Yoruba War Lord Pledges Support to Ighho with Over 150 Spiritual
He added that he and his gang members joined together to attack police information because he was not happy with the way the security operatives were killing the South- East youths but leaving the herdsmen who were killing people who reside in that region.
He concluded in his confession that he would enter a police station, source their information, return to the ESN camp and give out a strategy on how to attack the police station.
DO YOU HAVE ANY NEWS YOU WANT TO REPORT? CLICK HERE TO REGISTER AND SUBMIT YOUR NEWS FOR PUBLICATION ON TOKTOK9JA
WATCH MORE NEWS ON OUR YOUTUBE CHANNEL CLICK HERE TO SUBSCRIBE
Professional freelancer and webmaster.
From Toktok9ja Media
The views expressed in this article are the writer's opinion, they do not reflect the views of the Publisher of TOKTOK9JA MEDIA. Please report any fake news, misinformation, or defamatory statements to toktok9ja@gmail.com