VIDEO: Beautiful Teenage Girl and Two Others Shot Dead While Filming Crate Challenge.
A teen girl in the southeastern U.S and two others were shot dead while filming a viral crate challenge video on social media. The crate challenge has become a viral challenge, with a number of people trying it and posting their results on social media.
At about 5:30 pm on Sunday, 22nd while some young people were filming their crate challenge outside Linwood Public Charter School in Shreveport, Louisiana, a shooting erupted.
READ: PDP CRISIS: Stop Parading As The Party Chairman, Youth Leader Tells Secondus To Obey Court Orders
19-year-old Paris King was among the victims killed while filming the milk crate challenge video. Video footage shows a man attempting to climb a milk crate pyramid just as gunfire breaks out.
"Get my gun, get my gun!" one man shouted. Another man shouted, "Where my baby?" It is unclear if the man doing the crate challenge survived the shooting.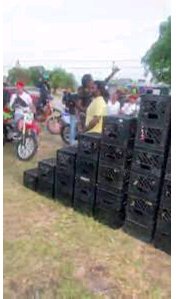 Initial reports were that two people were shot outside the school. First responders found Paris King shot dead in the backseat of a car at the scene.
READ: HEARTLESS!!! POPULAR Footballer In Serious Trouble After 3 Hum@n H£ads Was Discovered Inside His Fridge
A police spokesman told Newsweek that a man tried to drive away after the shooting but stopped when he realized King was shot in the back seat.
The driver of the car, and the other passenger, did not suffer injuries, Newsweek reported.
CLICK HERE TO FOLLOW OUR INSTAGRAM CHANNEL AND WTACH THE LIVE VIDEO OF THE KILLINGS
In another report, Mrs Blessing Swawale, the widow of one of the policemen beheaded and burnt to death by suspected members of the disbanded Indigenous People of Biafra in Oyigbo, Rivers State, has accused her in-laws of collecting the N20m compensation given to her family and other entitlements of her husband.
The woman said she was still in pains following the murder of her husband, Inspector Orman Swawale, on October 20, 2020, when IPOB attacked three police stations in Oyigbo.
Recall that the assailants beheaded four policemen, burnt them beyond recognition and carted away rifles in various stations during the attack on the Oyigbo Police Station in the wake of the #EndSARS protest.
In a voice note to our correspondent on Sunday, Blessing said her late husband's brother collected the N20m released to her as compensation by the government.
She said, "Since I got married to my husband, I have never seen my husband's family help us with anything. God blessed us with four children. He (late Orman) was the only one catering for those children. But today, he is no more with me. My children's school fees and what we eat are on me. When the governor gave us that money, I was not in Port Harcourt. I was in my husband's village.
"So, one of the policemen that stood in for me handed everything to my husband's brothers. They took me to a bank where they sent the money. From there, they (in-laws) collected everything from me.
"My husband's salary that the government is paying, his ATM card and mobile telephone are with them. "I don't know what to do with my children. I have handed over myself with my children to God because it is the same God that knows why this thing happened. But day and night I will not stop crying because it was my husband that used to wipe my tears. Now, see what I am passing through.
"I think of my husband's death. I think of what we will eat and what I will use in training my children in school. I am in pain."
While noting that she had to relocate with her children for fear of being hurt, the widow appealed to the police authorities and the Rivers State Government to help her recover the money to enable her to take care of her children.
He said, "Call her and she will tell you the name of the person that she went to the bank with and N19m entered the hand of that person.
"She has the name of that person. She has the number of that person. Let her give it to you. I have never gone to the bank with her. I have never signed any money with her and I have never collected any money that I denied her."
However, the widow insisted that Felix knew about it, adding that the family agreed in a meeting to deny her Orman's entitlements.
A spokesman for the state police command, Nnamdi Omoni, expressed shock over the allegations, urging the widow to make an official report to the command.
"First, let her come to the office so that we can understand what she is saying. We will listen to her," Omoni stated."
DO YOU HAVE ANYTHING YOU WANT TO TELL US ABOUT NIGERIA? CLICK HERE TO JOIN ESSENCE FORUM AND SHARE YOUR TOPICS WITH OVER 4000 MEMBERS.
WATCH MORE NEWS ON OUR YOUTUBE CHANNEL CLICK HERE TO SUBSCRIBE
Professional freelancer and webmaster.
From Toktok9ja Media
The views expressed in this article are the writer's opinion, they do not reflect the views of the Publisher of TOKTOK9JA MEDIA. Please report any fake news, misinformation, or defamatory statements to toktok9ja@gmail.com